AURORA | Brandon Alconcel has only just win to his head coaching career fives games into his first season, but it's definitely a biggie. The new Rangeview head coach guided his team to a 48-27 victory over rival Gateway Sept. 28 at Aurora Public Schools Stadium to make sure the Anvil traveling trophy — which […]
HIGHLANDS RANCH | Playing in an absolute downpour Saturday night at Shea Stadium, the Regis Jesuit and Highlands Ranch football teams considered just holding onto the slippery football a victory in the opening half. The Raiders finally found their traction in the second half, breaking a scoreless tie with 14 third-quarter points on their way to a 24-0 victory over the previously undefeated Falcons in front of fans in the stands armed with trash bags and umbrellas to keep dry.
AURORA | The Eaglecrest football team topped another rival and remained unbeaten for another week with a 28-14 victory over Cherokee Trail Friday night at Legacy Stadium. The Raptors scored 21 points in the opening half to take control and kept the Cougars at bay long enough to stretch their regular season winning streak to 15 games.
AURORA | Overland took the latest round in the evolving local football rivalry with Rangeview thanks to a 42-20 victory Friday night at Aurora Public Schools Stadium. The Trailblazers scored on their first offensive play from scrimmage on a 56-yard touchdown pass from junior quarterback Luis Ruiz to junior wide receiver Jermaine Davis, which started the ball rolling on the program's highest offensive output since a Week 8 game last season.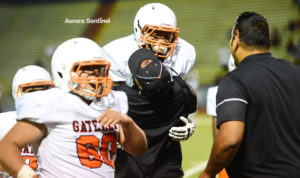 AURORA | Houston Harper couldn't believe he had the football in his hands and the end zone in front of him Thursday night. The burly Gateway senior defensive lineman had always wanted to score a touchdown in a game, but never had the opportunity. When it arrived, Harper took advantage, as he plucked the ball out […]
AURORA | The Eaglecrest football team might have been a nice, winnable matchup for teams on their Homecoming in years past, but not anymore. The Raptors were in no mood to let rival Grandview celebrate Friday night at Legacy Stadium, as two big-time touchdown connections between seniors Jalen Mergerson and Victor Garnes helped sparked their 21-14 victory in a battle of Aurora's two unbeaten teams.