AURORA | The discussion since the advent of the controversial "waterfall" alignment for Class 5A football two seasons ago bore fruit Thursday at the Colorado High School Activities' football committee meeting. The experiment that reclassified teams with little to no history with each other into divisions — which created logistical challenges, hurt attendance and sacrificed district and neighborhood rivalries — came to an end and a return to a more traditional set up is now favored by the football committee.
AURORA | Mike Schmitt didn't quite get to have the quintessential storybook ending to his football coaching career at Eaglecrest High School, but it was good to the very last page. Just two days after leading the Raptors to the brink of a historic Class 5A state championship in a 56-49 loss to Pomona at Mile High Stadium, Schmitt informed his players on Tuesday morning that he was stepping down after eight years with the program.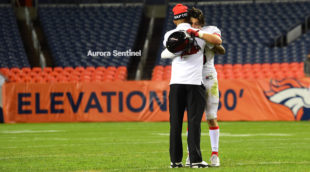 DENVER | Forty-nine points would have been enough to win 23 of the 25 Class 5A state football championship games since Eaglecrest won its state title in 1993. Unfortunately for the Raptors, one of the two instances when it wasn't enough came Saturday night, when Pomona put up 56 points at Mile High Stadium to beat Eaglecrest 56-49 in the highest-scoring 5A state championship game in history.