You don't have to be a political consultant to see where Gov. John Hickenlooper's controversial death penalty decision last year was going to resurface.
It's back, and it's important to the election and Colorado's future.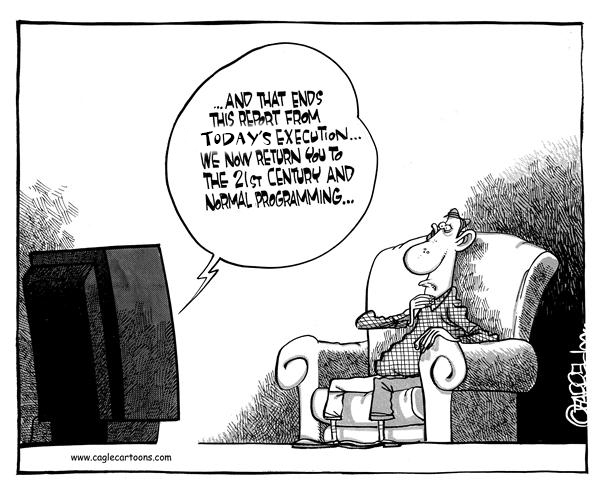 This week, news leaked out that CNN is going to release an interview with Hickenlooper. Part of that interview covers his decision on May 2013 to set aside the imminent death sentence of convicted Aurora Chuck E. Cheeses murderer Nathan Dunlap. Since Hickenlooper's now running for re-election to his second term, his political foes have jumped at the chance to try and gain ground from the issue. It's been a ticking political bomb since he took the high road on Colorado's flailing death penalty, explaining, albeit clumsily, what most of the rest of the world already knows:
— The death penalty is not a deterrent to crime. This has been substantiated in numerous studies numerous times. Murder is almost always the result of severe psychological illness, drugs, alcohol or passion. None of those causes are affected by executions or any other laws.
— The death penalty is not equally or fairly applied in Colorado, or anywhere in the country. Murder for murder, it is a far greater percentage of poor minorities who are handed the death penalty than richer, whiter murderers. And in Colorado, every person on death row got there from an Arapahoe County court, even though murder cases arise across the state. Had Dunlap committed his sadistic crime anywhere but in Aurora, he would have been given life without parole.
— The death penalty is obscenely expensive. A recent study of the death penalty in Maryland shows that it costs about $3 million to bring a death penalty convict to the death chamber. The same capital case without the threat of death penalty costs about $1 million, according to the study. Death penalty states have spent billions of dollars on capital punishment systems since they were re-authorized in 1978.
— Even for those who have no qualms about killing people back for their crimes, the death penalty is ineffective because it simply takes so long to invoke. Not long ago, the average death sentence was 28 years, now down to about 18 years. A full 25 percent of capital punishment cases still die of natural causes before they make it to the death chamber. Dunlap killed four employees of the Aurora Chuck E. Cheese's restaurant in 1993. It took 20 years to pull a date for his execution last year.
These are just some of the arguments that have prompted 18 states to end death sentences, and many others have stopped the practice defacto by using postponements.
Hickenlooper took a gamble last year that state lawmakers or others might strike Colorado's death penalty, making his "temporary" reprieve for Dunlap a moot case. That didn't happen, and now Hickenlooper is ripe for a political flogging because he's on the right side of doing the right thing. Of course the governor would grant Dunlap clemency on his way out if he's not re-elected, or he would do it in four years at the end of a second term, if Colorado doesn't end the death penalty first.
His only mistake was to not force the issue into the political arena so voters can learn that the emotional decision to keep Colorado's death penalty fails under the weight of the logical and practical arguments to end it. It is indisputable that the death penalty is nothing more than revenge killing, something beneath 18 states and almost all of the civilized nations. Hickenlooper should draw on the courage he needed to make this decision last year to fight the good fight against capital punishment during the current election battle, even if being on the right side of this issue just may not be the right thing to do to win a second term.