AURORA | At about 11 a.m., the call came in to Aurora Fire Station No. 7 that a woman had fallen down three stairs and had seriously injured her leg.
Fire Medic Scott Wifall and firefighter Josh Woolsey piled into their Ford F-350 and rushed down East Iliff Avenue to the woman's home.
Unlike in years past, the fire engine stayed back at Station No. 7 because the department is relying more and more on their Medical Services Units — specially outfitted pickup trucks staffed by a paramedic and a firefighter — to handle calls that don't require a full-fledged fire truck.
"It's the right piece of equipment for that type of emergency," Wifall said, as they cruised back to Station No. 7 after taking the injured woman to a hospital.
Scott Wifall talks with Kathleen Blake while riding with her to the hospital on Sept. 12 in Aurora. Photo by Gabriel Christus/Aurora Sentinel
Scott Wifall, a fire medic with Aurora Fire, left, and Josh Woolsey, an Aurora firefighter, bring supplies to a call Sept. 12 in Aurora. Photo by Gabriel Christus/Aurora Sentinel
Scott Wifall, a fire medic with Aurora Fire, talks Sept. 12 in Aurora with Kathleen Blake, who fell with a lower leg injury. Photo by Gabriel Christus/Aurora Sentinel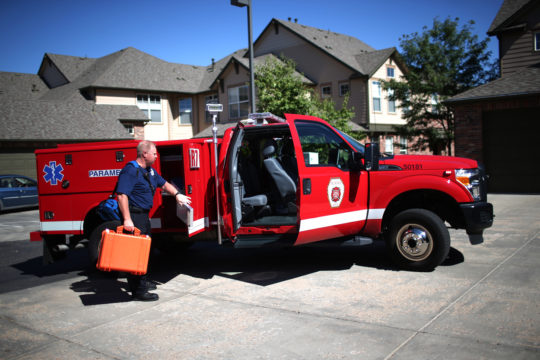 Scott Wifall takes supplies out of the medical service unit during a call Sept. 12 in Aurora. Photo by Gabriel Christus/Aurora Sentinel
Scott Wifall prepares the medical service unit Sept. 12 at Aurora Fire Station 7. Photo by Gabriel Christus/Aurora Sentinel
The department first started using the MSUs a few years ago, and last month expanded the program from two fire houses to three. They also extended the hours the units operate to 12 hours a day, seven days a week, up from 10 hours a day, four days a week.
Aurora Fire Commander Mike Stanley, who oversees the department's medical branch, said the trucks allow the department's fire engines and ladder trucks to respond only to calls where that equipment is really needed, such as fires and traffic accidents.
With the MSU covering many of those medical calls — such as slip-and-falls, strokes, seizures and others — the engines can maintain quick response times.
Aurora City Councilman Bob LeGare has long advocated for the department to use the smaller trucks for medical calls, which make up more than two thirds of the department's calls.
While the department largely sees the trucks as a way to keep response times down and save the fire engines for fires or other more-serious emergencies, LeGare said there is also a cost benefit to using the MSUs.
"Rolling a fire engine and a private ambulance with six personnel to every medical call just doesn't make sense anymore," he said. "In my mind it is very much a financial matter."
For now, Stanley said, the MSUs are deployed at three of the department's busier stations — Station No. 1 near East 16th Avenue and Dayton Street, Station No. 4 near East Mississippi Avenue and South Peoria Street and, now, Station No. 7 near East Iliff Avenue and Interstate 225.
Each day the crews respond to close to 10 calls, Stanley said.
"You name it, they are staying very busy," he said.
At Station No. 7, the MSU responded to 203 calls last month while the station's engine responded to 277. During those 203 calls, Stanley said the engine is generally back at the station waiting to be deployed to a more-serious call, such as a fire.
That's important for response times, Stanley said, because if the engine is out on a medical call and a fire comes in the department has to call in a truck from another station that is usually farther away.
Wifall said when the department deploys a fire engine to a medical call, sometimes the person who called 911 is a bit confused about why they sent a fire truck when there was no fire. That doesn't happen with the MSU, he said, and most people are instead surprised only at how fast the firefighters and paramedics arrived.
On almost all calls — whether it's an MSU that responds or a fire engine — an ambulance crew responds as well.
In cases where there is a fire engine, that means a crew of four firefighters and paramedics, and two paramedics on the ambulance.
Wifall said, in most cases, six people aren't needed; the MSU — with it's two-person crew — can easily handle the call.
The trucks aren't used for traffic accidents, Stanley said, because the department sends fire engines to those to block lanes of traffic.
When the department launched the program, the units used SUVs packed full of equipment, but now they have shifted to pickup trucks outfitted with specially-designed boxes. Stanley said those vehicles — which took a while for the city to get because they were back-ordered — are safer for the crews and have more lights and markings.
"They're more distinguishable as a piece of fire equipment," he said.