US Rep., Mike Coffman, speaks during a town hall meeting on Wednesday April 12, 2017 at Education Building 2 South in the CU Anschutz Campus. Coffman enacted strict rules for attendance and participation, but stayed an extra 45 minutes answering questions. Photo by Gabriel Christus/Aurora Sentinel
James Winkler, a retired physician, joins protesters before a town hall meeting with US Rep., Mike Coffman on Wednesday April 12, 2017 at Education Building 2 South in the CU Anschutz Campus. Photo by Gabriel Christus/Aurora Sentinel
Protesters rally before a town hall meeting with US Rep., Mike Coffman on Wednesday April 12, 2017 at Education Building 2 South in the CU Anschutz Campus. Coffman enacted strict rules for attendance and participation, but stayed an extra 45 minutes answering questions. Photo by Gabriel Christus/Aurora Sentinel
Rhonda Fields, D-Aurora, speaks to protester before a town hall meeting with US Rep Mike Coffman on Wednesday April 12, 2017 at Education Building 2 South in the CU Anschutz Campus. Photo by Gabriel Christus/Aurora Sentinel
Rhonda Fields, D-Aurora, speaks to protester before a town hall meeting with US Rep Mike Coffman on Wednesday April 12, 2017 at Education Building 2 South in the CU Anschutz Campus. Photo by Gabriel Christus/Aurora Sentinel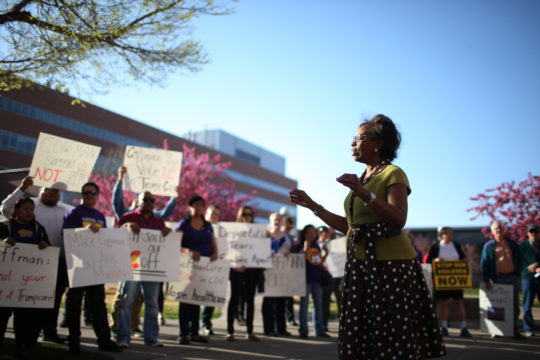 Rhonda Fields, D-Aurora, speaks to protester before a town hall meeting with US Rep Mike Coffman on Wednesday April 12, 2017 at Education Building 2 South in the CU Anschutz Campus. Photo by Gabriel Christus/Aurora Sentinel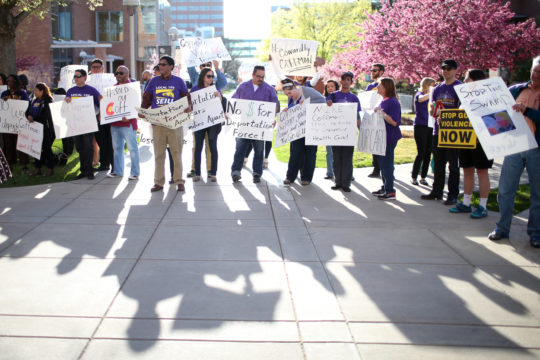 Protester rally before a town hall meeting with US Rep., Mike Coffman on Wednesday April 12, 2017 at Education Building 2 South in the CU Anschutz Campus. Coffman enacted strict rules for attendance and participation, but stayed an extra 45 minutes answering questions. Photo by Gabriel Christus/Aurora Sentinel
Rhonda Fields, D-Aurora, speaks to protester before a town hall meeting with US Rep Mike Coffman on Wednesday April 12, 2017 at Education Building 2 South in the CU Anschutz Campus. Photo by Gabriel Christus/Aurora Sentinel
US Rep. Mike Coffman speaks to the press before a town hall meeting on Wednesday April 12, 2017 at Education Building 2 South in the CU Anschutz Campus. Photo by Gabriel Christus/Aurora Sentinel
US Rep. Mike Coffman speaks to the press before a town hall meeting on Wednesday April 12, 2017 at Education Building 2 South in the CU Anschutz Campus. Photo by Gabriel Christus/Aurora Sentinel
US Rep., Mike Coffman, speaks during a town hall meeting on Wednesday April 12, 2017 at Education Building 2 South in the CU Anschutz Campus. Coffman enacted strict rules for attendance and participation, but stayed an extra 45 minutes answering questions. Photo by Gabriel Christus/Aurora Sentinel
US Rep., Mike Coffman, speaks during a town hall meeting on Wednesday April 12, 2017 at Education Building 2 South in the CU Anschutz Campus. Coffman enacted strict rules for attendance and participation, but stayed an extra 45 minutes answering questions. Photo by Gabriel Christus/Aurora Sentinel
US Rep., Mike Coffman, speaks during a town hall meeting on Wednesday April 12, 2017 at Education Building 2 South in the CU Anschutz Campus. Coffman enacted strict rules for attendance and participation, but stayed an extra 45 minutes answering questions. Photo by Gabriel Christus/Aurora Sentinel
US Rep., Mike Coffman, speaks during a town hall meeting on Wednesday April 12, 2017 at Education Building 2 South in the CU Anschutz Campus. Coffman enacted strict rules for attendance and participation, but stayed an extra 45 minutes answering questions. Photo by Gabriel Christus/Aurora Sentinel
A participant in the town hall meeting holds a sign on Wednesday April 12, 2017 at Education Building 2 South in the CU Anschutz Campus. Coffman enacted strict rules for attendance and participation, but stayed an extra 45 minutes answering questions. Photo by Gabriel Christus/Aurora Sentinel
US Rep., Mike Coffman, speaks during a town hall meeting on Wednesday April 12, 2017 at Education Building 2 South in the CU Anschutz Campus. Coffman enacted strict rules for attendance and participation, but stayed an extra 45 minutes answering questions. Photo by Gabriel Christus/Aurora Sentinel
US Rep., Mike Coffman, speaks during a town hall meeting on Wednesday April 12, 2017 at Education Building 2 South in the CU Anschutz Campus. Coffman enacted strict rules for attendance and participation, but stayed an extra 45 minutes answering questions. Photo by Gabriel Christus/Aurora Sentinel
People hold "dislike" signs during a town hall meeting on Wednesday April 12, 2017 at Education Building 2 South in the CU Anschutz Campus. Coffman enacted strict rules for attendance and participation, but stayed an extra 45 minutes answering questions. Photo by Gabriel Christus/Aurora Sentinel
AURORA | Republican Congressman Mike Coffman's first in-person town hall meeting with Aurora residents since President Donald Trump took office drew a boisterous crowd who came to listen, and more importantly, to be heard.
The town hall at the University of Colorado Anschutz Medical Campus drew several dozen protesters outside the hall, a gaggle of national media and a large contingent of constituents who had been waiting all year to get a chance to talk to Coffman in person.
Coffman, like many other Republican lawmakers, has opted recently to meet with constituents either at small events with hand-picked audiences or virtually through telephones and streaming video. The event at CU's campus is the first meeting since one in January, where Coffman slipped out the back door to avoid a hostile crowd.
The meeting had been limited to 800 participants and audience members were given raffle tickets to see if they'd be called up to question the congressman. And while the meeting was scheduled to go only for an hour, Coffman extended the event almost a full hour and took questions the entire time.
When asked about the Russian investigation, Coffman said he had more faith in the Senate investigation than he did in the House probe being led by Republican Rep.K. Michael Conaway of Texas and Democratic Rep. Adam Schiff. He also said he was moving toward supporting an independent commission to investigate.
"The most dangerous place to be in Washington D.C. right now is between David Nunes or Adam Schiff and a TV camera," Coffman told the crowd. "I'm not there yet for an independent council, but I'm moving there."
Coffman also turned heads in the audience, and shortly after garnered national headlines, when he said it was his opinion that White House Press Secretary Sean Spicer should step down after his bungled comments this week that seemed to indicate he didn't think poison gas was used by Adolf Hitler in World War II.
"Spicer made a terrible mistake. He needs to go," Coffman said.
But for the most part, audience members peppered Coffman with question after question on health care. And while many in the audience had signs they could hold up to voice their displeasure to Coffman's answers, almost everyone opted instead to use their outside voices and shout their disagreement.
Coffman was on record supporting the Obamacare replacement plan Republican's tried to pass last month to replace the Affordable Care Act. During the meeting, he reiterated his support of keeping that part of the ACA that protects people with pre-existing conditions from being denied coverage. And he also said he disagreed with Trump's statements about letting the state marketplaces collapse instead of acting.
But Coffman balked at the idea of Medicaid for all or a single health care plan, which drew a predictable wave of boos from the audience. He cited the "trillions in debt" the United States already is in and the over-promising of single payer health care.
While Coffman kept his cool for almost the entire session, during a question on whether he thought Trump should release his tax returns, the veteran lawmaker seemed testy for a moment. While Coffman said he would support a law that requires the president, vice president and members of congress to release tax returns, since there was no current law, he didn't think Trump had to release his records.
After the crowd shouted their disapproval of the answer, Coffman asked people if anyone had even read the financial disclosure forms Trump had released. Several people raised their hands and Coffman pointed to one and asked incredulously, "You've really read them?"
At another point, Coffman compared the anger in the audience with the anger he received from Tea Party members demanding he fight every aspect of President Obama's agendas.
"Republicans, when Obama was president, everything was, 'What are you doing to stand up to this president? Every time the president does something, why aren't you speaking out?' Now I'm getting the same thing from the left. When I disagree with the president, I'll speak out against the president," Coffman said. "Those of you on the extreme left will never be satisfied (with me)."
Paul Gross, a resident of Highlands Ranch and a constituent from the 6th Congressional District, asked whether Coffman would stand up to Republicans and represent his constituents.
"I had been encouraged by his attitude until he lost his temper and ranted about people on the left," Gross said after the event. "He basically is dismissing a large portion of his constituents just because they didn't vote for him. His job is to represent everyone in the district. I thought it was good that he had the meeting, Sen. Cory Gardner hasn't even held one."
It wasn't all boo birds and shouts of anger in the audience. Coffman received praise when he talked about his work to reinstate Veterans Authority health care to servicemembers discharged over minor infractions after tours of duty. He also said he wanted to push the VA away from a drug-first mentality when it comes to treating both pain and mental issues of veterans.
And Coffman's efforts to get the Obama Administration's Deferred Action for Childhood Arrivals set as a law before Trump took office in January was also received with rounds of applause.
"For the adults who broke our immigration law but haven't broken other laws, let them come out of the shadows," Coffman said. "For the young people who were taken here, it wasn't their decision."
Jeanette Carmany, an Aurora resident, said while she appreciated Coffman having a town hall meeting and extending the time, she was upset he didn't answer many questions to her satisfaction, including her own about what many see as antisemitic talk from Trump's staff.
"I don't think he answered a lot of the questions people asked. He just gave a lot of double speak and didn't give us straight answers," Carmany said after the meeting.
Carmany's question is what elicited Coffman's response that Spicer should be out of his job.
"I was surprised by his stance on immigration, and I liked what he said about getting people to come out of the shadows," Carmany said. "He did handle the meeting better than the last time (he had a meeting in January)."
Here are tweets and notes from reporter Ramsey Scott covering the event:
7:50 p.m.:  Coffman being asked about antisemitism (Spicer, etc). Coffman: Spicer made a terrible mistake. He needs to go #co06
7:23 p.m.:  Coffman arguing for more flexibility for states to administer Medicaid. #co06
7:17 p.m.:  Coffman says let's keep it going, won't end meeting yet. Audience gives him some props. #co06
7:14 p.m.:  Also wants to work to get care to vets that were discharged over minor infractions after tours of duty #co06
7:09 p.m.:  Coffman didn't cut meeting after 7 pm, continuing to take questions. #co06
7:04 p.m.:  Questioner trying to nail Coffman down on promise not to vote 4 bill that would cut people off Medicaid.Coffman not answering directly #co06
7 p.m.:  Coffman on Russia: has more faith in Senate than House. On independent panel: I'm not there yet but I'm heading in that direction. #co06
6:56 p.m.:  Someone refers to Freedom Caucus as secret group which gets a chuckle from Coffman #co06
6:52 p.m.:  About 10 minutes away from scheduled end of meeting… this isn't going to be a happy crowd when they end this meeting #co06
6:50 p.m.:  "What will it take for you to vote with your constituents" instead of Republican agenda? Coffman: constituents keep voting for me #co06
6:46 p.m.:  Coffman on single payer: opposed bec it over promises and we're already in trillions of debt. Can you guess if he got booed? Yes #co06
6:43:  Coffman on single payer: opposed bec it over promises and we're already in trillions of debt. Can you guess if he got booed? Yes #co06
6:36 p.m.:  Audience: do you want Trump to release tax returns? Coffman: I would support a law moving forward for prez/Congress releasing taxes. #co06
6:32 p.m.:  Question on preexisting conditions and if he'll fight for it. Coffman said he commits to protecting it #co06
6:29 p.m.:  Audience taking deep dive into health care policy. Coffman agreeing there needs to be transparent pricing for hospitals #co06
6:25 p.m.: Audience seems to be waiting for moments to voice their displeasure. But It's pretty cordial given the tension in the room #co06
6:20 p.m.:  Next up climate change and rollbacks of regulations. Coffman wants environmental policies rolled into trade deals. #co06
6:18 p.m.: Next question on VA hospital: he wants to push for criminal prosecution in regards to issues with construction #co06
6: 15 p.m.:  Audience already shouting down Coffman when he argues about amount that was proposed cut from Medicaid #co06
6:10 p.m.: First question: right to Trump Care from home care provider. Coffman doesn't want to let exchanges explode. Wants Medicaid 50/50 split #co06
6 p.m.:  Inside Coffman meeting. Way less than 800 people inside hall. Plenty of empty seats. #co06