AURORA | The already congested Aurora City Council at-large race lost one candidate but gained another Friday.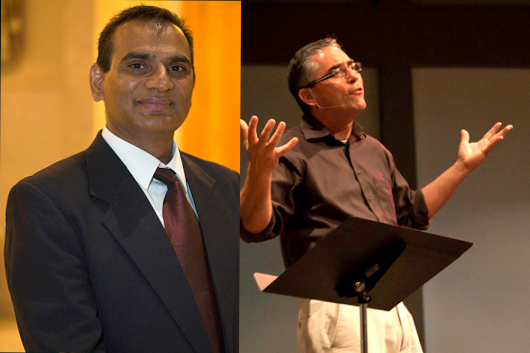 P.K. Kaiser, left and Reid Hettich
The city clerk's office reported P.K. Kaiser dropped his bid for one of the two open at-large seats. In the same day, Pastor Reid Hettich of Mosaic Church in north Aurora declared his intent to be a municipal candidate for one of two opening at-large seats.
In an email to friends and colleagues, Kaiser, who has been a candidate in several local races and is currently employed at Aurora Community College, said he'd focus on the 2018 county assessor race in Arapahoe County.
Kaiser could not be reached for comment about his candidacy or future campaign plans. In June, Kaiser was the focus of a controversy inside the regional Muslim community after he made unsubstantiated allegations in a letter to the editor of the Aurora Sentinel about a local imam. The Sentinel removed the letter from its online edition, saying the allegations were never vetted and the letter should not have run. The subject of the allegations, Aurora Imam Karim, said Kaiser apologized for the letter. Kaiser did not return phone calls or messages.
Hettich and 11 other announced candidates are vying for the at-large seats being vacated by council members Brad Pierce and Barbara Cleland. Pierce is term limited and Cleland announced she would not run for a third term.
While Hettich said he lives in Ward I, which is up for election this year, the at-large candidate said he didn't want to run against incumbent Sally Mounier because he worked closely with her on projects in the past.
Additionally, Hettich said an at-large seat gives him a broader population to represent, which is one of the main reasons he jumped into the race.
"I want to represent people who don't feel represented," Hettich said, adding that the issue of transparency was also a main driver in his decision to run.
"I'm more and more concerned with the dynamics of council," Hettich said. "There is some rhetoric and partisanship that doesn't serve our community very well."
There are currently 26 candidates in the running for the five available seats, which include Ward I, II and III along with the two at-large seats.