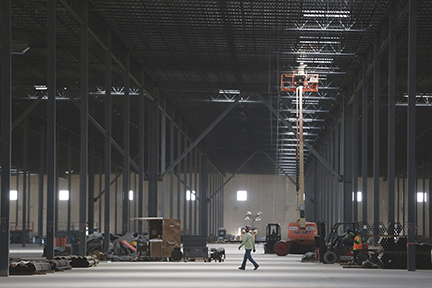 Construction crews work on the one million square foot Amazon fulfillment center on Friday April 14, 2017 near Picadilly Road and Smith Road. Photo by Gabriel Christus/Aurora Sentinel
AURORA | For several months, about 750 construction workers have been hammering away at Aurora's massive Amazon facility.
Now, with just a few weeks of construction left, the flurry of construction is winding down, only to be replaced by a rush of hiring.
The company said last month they are looking to hire more than 1,000 people for the Aurora facility, which is set to open later this summer.
Ashley Robinson, a spokeswoman for the company, said construction should wrap up in a matter of weeks, and the company is still looking to fill many positions.
"We are still seeking to hire hundreds more candidates for open associate roles. Our hiring team is holding hiring events pretty regularly," she said.
Even when those positions are filled, Robinson said hiring in Aurora will see additional spikes, particularly around the holidays when they add seasonal staff.
"In most locations we do hold additional hiring events to ensure our team can meet customer demand," she said.
Kevin Hougen, president of the Aurora Chamber of Commerce, said the company will likely face the same challenges finding employees that other local employers do, namely fewer people looking for jobs in Colorado's booming economy.
But, Hougen said, the company benefits from name recognition.
"Everybody wants to work for Amazon," he said.
The Aurora push is part of a broader effort by Amazon nationwide to add staff to its growing number of sorting facilities.
It's common for Amazon to ramp up its shipping center staff in August to prepare for holiday shopping. But the magnitude of its current hiring spree underscores Amazon's growth when traditional retailers are closing stores — and blaming Amazon for a shift to buying goods online.
Amazon said it received "a record-breaking 20,000 applications" nationwide and hired thousands of people on the spot, and will hire more in the coming days. That number represented fewer than half of the 50,000 people it had said it planned to hire.
Most of the jobs are full-time positions in packing, sorting and shipping and will count toward Amazon's previously announced goal of adding 100,000 full-time workers by the middle of next year.
The Aurora facility is Amazon's second Colorado facility and the state's first "sortation" site. The state's other Amazon location is a sortation facility that opened last year near Tower Road and Interstate 70. That site, too, is in Aurora.
Aurora city council last spring unanimously approved a resolution granting up to $1.18 million in tax breaks for Amazon to build the project. The agreement formalizes a deal city officials made with Amazon in previous closed-door talks. The company announced its plans to move to Aurora earlier this year.
According to the city, the new Amazon facility will generate about $130 million in investments.
The thousand or so employees who work at the site will earn an average salary of about $30,000, plus benefits.
The Amazon center is expected to generate about $6.5 million in taxes in the coming decade, according to Aurora officials. Without the $1.1 million rebate, the city will still receive about $5.4 million in taxes from the company.
The project is one of several massive distribution centers to open in the far northeast corner of the city in recent years.
While the site — which is roughly at Smith Road and Picadilly Road, just a short jaunt north of Interstate 70 — is several miles from the city's center, officials say this corner of town is where Aurora's future growth will happen.
The area has ample undeveloped land and easy access to both I-70 and the E-470 toll road. It's also within a few miles of Denver International Airport and Front Range Airport.
The Associated Press contributed to this report.