AURORA | A massive hotel in Aurora will have a massive, $25 million water park to attract more visitors, RIDA Development Corporation announced Thursday. RIDA has contracted to build the 1,500-room Gaylord Rockies Hotel and Conference Center near Denver International Airport.
RIDA President Ira Mitzner unveiled lavish renderings of a massive indoor-outdoor waterpark planned for the state's potentially largest hotel at a press conference Feb. 6.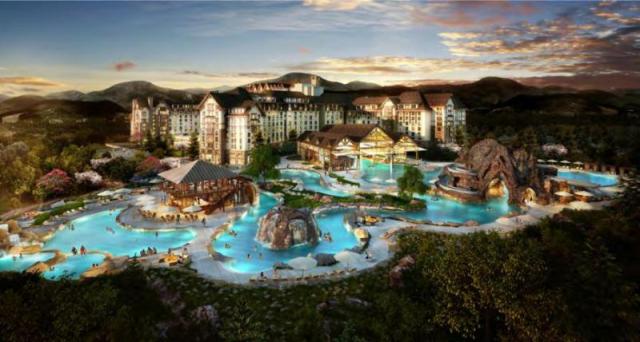 "Colorado has so much 12 months a year, so we wanted Gaylord to have the ability to begin not only the business part of someone's visit here in Colorado, but the fun part," he said.
Renderings of the water park show a lazy river, waterslides built into rock, and what RIDA describes as an overall "hot springs experience" for visitors.
He described the waterpark addition as another attraction for out-of-state visitors.
"We want to create a reason why they come here and not Las Vegas. This is just another tool in our arsenal to be successful," he said.
"Hopefully we'll be starting drawing and designs later this year with ground breaking in late 2015," said Laura Paletz, a RIDA vice president of Interior Purchasing.
The Aurora Economic Development Council said the hotel alone will cost approximately $800 million and feature 1,500 rooms, multiple restaurants, and 400,000 square feet of conference space.  The Colorado Economic Development Commission approved $81.4 million in incentives for the hotel, with the City of Aurora providing up to $300 million in incentives.