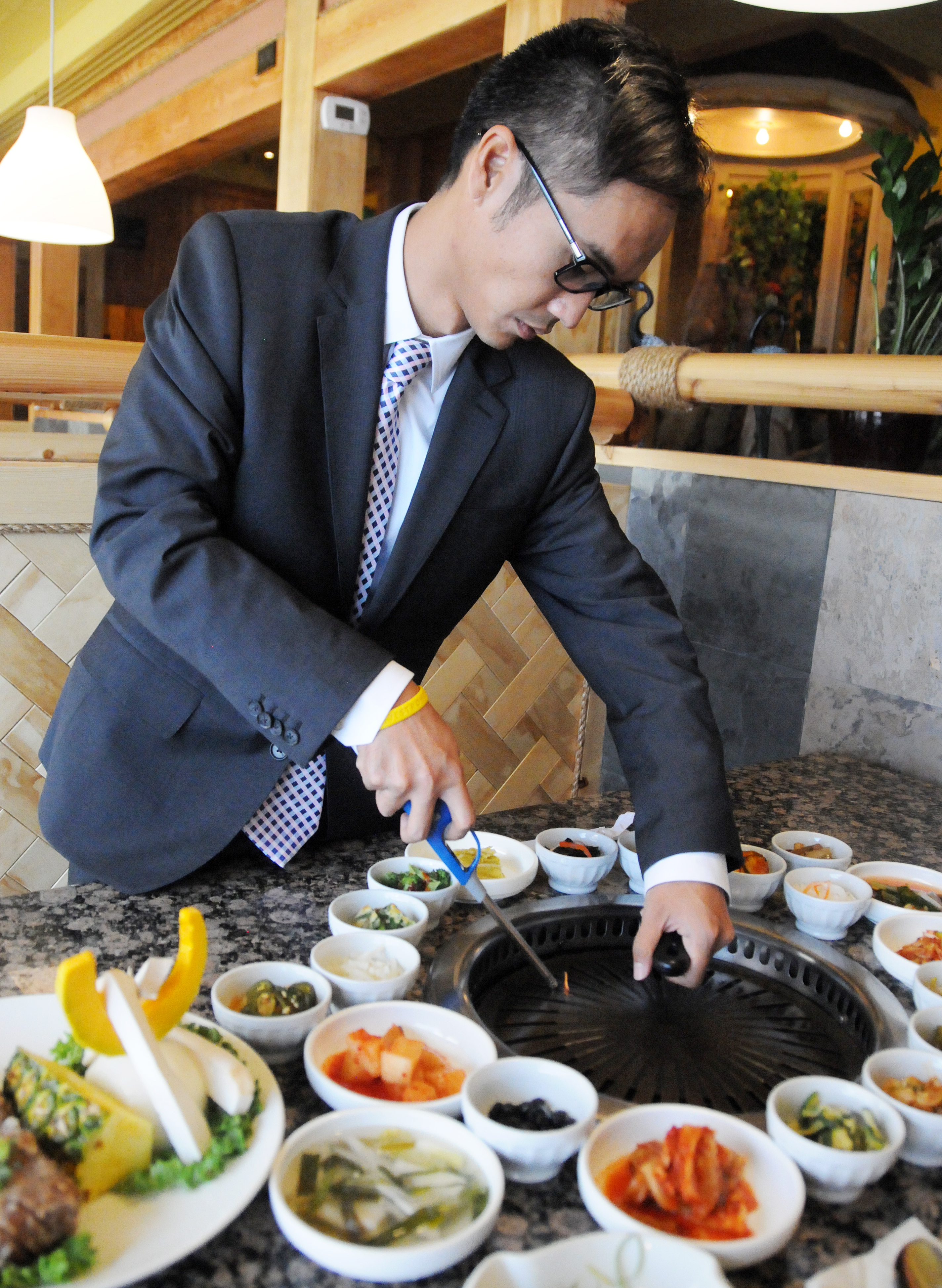 • TIPS for Korean BBQ first-timers. See below

Metro diners and visitors have flocked to Aurora for Korean-style barbecue for years and the city's latest entry is trying to be an even greater attraction.
Shin Sa Dong recently opened at 10293 E. Iliff Ave., former home of one of the oldest restaurants, Korea House, and is trying new tactics to stand out in a place widely considered the epicenter for Korean cuisine along the Front Range.
Hey Ran Jeon, a Korean restaurateur who had previously operated Shin Sa Dong in Colorado Springs, was eager to shift his business to Aurora.
"It's basically the same concept as the one in Colorado Springs, but with better location, better chefs," general manager Patrick Choi said. "The noise level is average, so you can have fun and enjoy a unique kind of meal."
After the purchase, nearly 80 percent of the building was remodeled with the dining space given a brighter feel.
The addition of a new chef with experience at an upscale restaurant in Korea, Choi said, plus an energetic waitstaff help make Shin Sa Dong a strong addition to Aurora's roster of Korean barbecue establishments. In the hands-on Korean barbecue experience, diners cook meat on a grill seated in the middle of the table.
Choi — a Knoxville, Tenn. native — is the glue to the place, working 12 hours a day, six days a week. Choi serves as an interpreter for the Korean-speaking owner, oversees the dining room and gives crash courses to Korean food rookies, especially younger diners.
Choi's job description includes getting Shin Sa Dong's name out on Yelp, Facebook, Twitter and any other medium that will bring in new clientele, like the ones who watched the NBA Finals at the restaurant on a bank of flat screen televisions. Choi hopes more will come in for barbecue and football during the NFL season.
Social media can get people in the door of a restaurant, but whether they spread the word depends on the food.
Besides the meat staples like prime galbi (marinated beef short ribs), bulgogi (marinated chicken, beef or pork) and brisket, along with Sulung-Tang (rice beef noodle soup), Choi is especially proud of Shin Sa Dong's shared side dishes or "banchan" which can make or break a meal for Koreans.
The restaurant offers a roster of between 16 and 20 small dishes (which always includes fragrant kimchi) on a given day. Along with rice and soup, the banchan accompany everything on the menu from exotic seafood dishes to boiled oxknee soup and are replenished as needed throughout the meal.
Finally, Choi said that Shin Sa Dong's chef, Sun Woo Kim, has a technique for preparing cold noodles that is so unique that diners are only allowed to eat them at the restaurant, no take-out or leftovers, to keep it from being copied elsewhere.
Tips: An introduction to Korean BBQ
Few cuisines offer the sort of sort of comprehensive dining experience of a Korean barbecue restaurant.
Korean food offers a number of dishes from the menu that should be tried — things such as stir-fried octopus and soybean paste stew — but for a sheer hands-on fun, Korean tabletop grilling is the way to go.
Don't shortchange yourself by trying to get in and out quickly. Carve out enough time to devote to soaking it all in.
Go with as many people as you can, as half the fun is sharing ithe experience, plus it cuts down the cost and allows the possibility of trying different meats — such as beef short ribs, pork belly and chicken — without breaking the bank.
The first things to come to your table will be numerous side dishes — or banchan — which many Koreans consider to be the most important part of the meal and go hand-in-hand with rice, soup or whatever meat is involved.
There are limitless varieties of banchan so the number of offerings at each restaurant is different. A staple is kimchi, a fermented cabbage dish that is generally spicy, but sometimes mild.
Shin Sa Dong features between 16 to 20 banchan dishes in a variety of flavors, textures and colors including:
• fermented spicy radish
• chive onion pancake
• broccoli with chile paste
• water kimchi (non-spicy)
• seaweed in vinegar
• soft potato fries
• sliced cucumber with chile paste
• sweet radish
• eggplant
• anchovies with chile
The real fun comes with cooking your own meal on the grill embedded in the tabletop. You control over how your meat is cooked, as well as the pace you feel comfortable eating it. A server will generally fire up the small circular grill and get things started for you, then hand over the tongs.
Shin Sa Dong general manager Patrick Choi offers these tips for Korean BBQ first timers: Start the grill on high heat and back it down as needed; Use a piece of lettuce on the grill to keep meat from burning, as the moisture of the lettuce won't allow it to burn all the way through and it will keep the meat warm until you are ready to eat it; keeping the grill top "greased" by occasionally running a sliced onion on it can keep the meat from sticking.
Korean cuisine features few desserts, but adult Koreans finish off the experience with a cup of soju, a slightly sweet rice liquor reminiscent of sake or vodka.