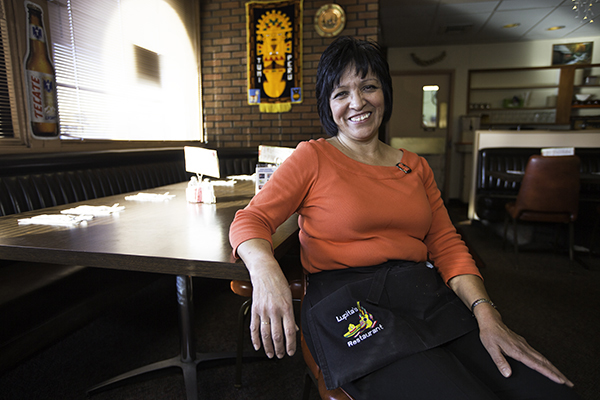 AURORA – If it feels like home when you dine at Lupita's Restaurant, there is a very good reason.
The people that greet you, serve you, cook for you and wash your dishes at this longtime Aurora favorite are mostly members of her family.
"Four of my brothers work here, plus a nephew, my sister and sometimes my sister-in-law," owner Betty Oxley said. Even her mom and dad worked at the restaurant for many years.
"My mother made sure we did everything right and papa was a dishwasher," she said.
But many of the longtime regulars are there for one person. "They come in and ask 'Where's Betty?' I know all about their kids and their illnesses," Oxley said.
It's been that way since the day her mom insisted she buy Lupita's Restaurant 19 years ago. A Mexican woman named Lupita had opened her eatery 11 years earlier on Montview Boulevard. Oxley decided it was the right move because she was moving her family from Peru to Aurora and needed a way to support it.
Oxley had moved to Colorado in 1978 and opened a snack stand near Stapleton Airport in 1991. After moving Lupita's to the current Colfax Avenue location, she's been serving three meals a day, seven days a week, for 363 days a year (minus Thanksgiving and Christmas).
Oxley had waitressed at many local eateries including Las Delicias and Green Gables Country Club before buying Lupita's. There was only one catch, Oxley said: "I didn't know how to cook Mexican food."
She opened anyway but got a lot of complaints about the dishes she was serving. "I asked a Mexican friend to teach me and shut the doors again for three weeks while I learned," she said. "The main spices in Mexican food are red chile, cumin and cilantro but you can't put them in everything," she said. Oxley said that she and her mom, Rosa Moreno, "fixed it up our way."
When the eatery moved to Colfax it took over a space that had been a diner that served Mexican, American and Greek fare including a standard breakfast menu. "I decided to keep serving breakfast but I wanted to serve it all day," Oxley said. "The cook said he wouldn't cook eggs after 11 a.m. When I told him he had to cook breakfast all day he quit," she said. Her customers helped her figure out how to make such unfamiliar fare as pancakes and the gravy for biscuits."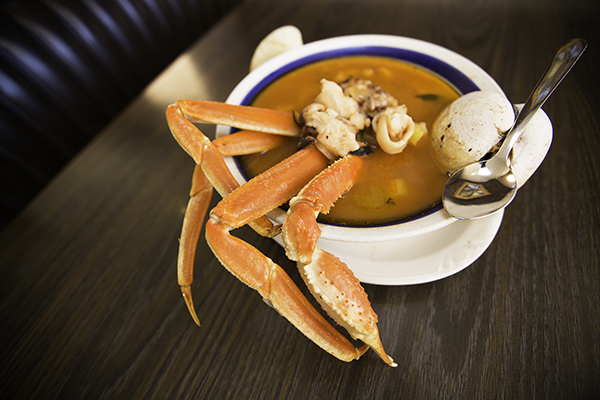 The most popular items have been the breakfast burritos filled with house-made lean chorizo sausage and more boiled red potatoes than pinto beans, she said. Among the Mexican dishes, the pollo poblano burrito — originally just an improvised dinner special, sells best along with the pork burrito plate. There is also a steady demand for her chile relleno burrito, carne asada, steak tortas and mojarra al mojo de ajo — fried whole tilapia with garlic sauce, and caldo 7 mares, a soup filled with with seven kinds of seafood.
However, if you want to eat Peruvian food at Betty Oxley's place, you either have to work at the restaurant or put in a very special request. "We don't do it because Peruvian food is expensive to make," she said. "It has to be made fresh and served fresh. You can't keep it in a steam table."
Oxley makes Peruvian fare for the staff meal every day including ceviche, special lentils, Bolivian-grown quinoa, beef dishes and Peruvian chicken soup with ginger. She's fond of lomo saltado, a dish of sauteed beef, onions and tomatoes served with white rice and French fries.
"Every Peruvian meal comes with potatoes and rice — never just one," she said.
On New Year's Eve Oxley does observe some Peruvian traditions with her customers. "Besides the champagne toast, we eat 12 grapes at midnight — one for each month, and each person gets a packet of lentils for good luck," she said.
Oxley said she has never been a purist about the food, just a business person trying to make customers happy. That's why this Mexican and American eatery run by Peruvian-Americans serves baby back ribs on Friday nights while a country music band plays. "When we get an Elvis impersonator we serve the Elvis sandwich filled with banana and bacon," Oxley said.
Earlier in December, Santa arrived in a red limo to hand out gifts. On St. Patty's Day the eatery usually prepares upwards of eight cases of corned beef with cabbage, and on Mother's Day each mom gets a rose.
Oxley may be the owner, but she also shops for groceries, does the paperwork, takes care of her parents and she is often the only waitress.
"It's a lot of work every day," she said. When business is slow as it has been for several years, "We just have to work harder, but I love it when every table is filled. I feed off the energy of the customers."
It's worth it because she literally always has her family around her. She and eleven members of her family including her parents live together in a large 6-bedroom home in Aurora.
"It's fun but it's not quiet," she said with a smile.
Lupita's Restaurant
11809 E. Colfax Ave., Aurora
lupitasco.com
303-344-0020