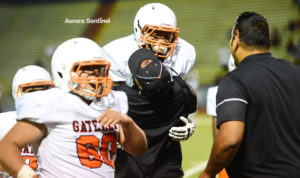 AURORA | Houston Harper couldn't believe he had the football in his hands and the end zone in front of him Thursday night. The burly Gateway senior defensive lineman had always wanted to score a touchdown in a game, but never had the opportunity. When it arrived, Harper took advantage, as he plucked the ball out […]
ENGLEWOOD | With Jamaal Charles barreling toward the end zone, Broncos left tackle Garett Bolles felt someone kick his left leg, sending a searing jolt through his body and a sense of foreboding into his heart. Was his rookie season really over already?
SAN DIEGO | The Colorado Rockies keep stumbling as they try to protect their tenuous hold on the NL's second wild card. They've lost four straight games and six of eight, the latest coming Thursday night when veteran left-hander Clayton Richard and rookie slugger Christian Villanueva led the San Diego Padres to a 3-0 win.
SHANGHAI | A golden dragon was held aloft on poles by skaters. Kobe Bryant appeared on video. NHL mascots gave the crowd a primer on what this odd game is all about. NHL preseason hockey made its debut in China — a 5-2 victory by the Los Angeles Kings over the Vancouver Canucks — in a step by the league to crack an immense market.