Just because the ground is covered in a healthy layer of powder, you don't have to swap your bike for some skis this winter.
Colorado — and especially Front Range communities like Aurora — boast more than enough sunny days before spring for bikers to pedal away the few hours of daylight we have.
on Friday Dec. 04, 2015 at Alderfer/Three Sisters Park. Photo by Gabriel Christus/Aurora Sentinel
on Friday Dec. 04, 2015 at Alderfer/Three Sisters Park. Photo by Gabriel Christus/Aurora Sentinel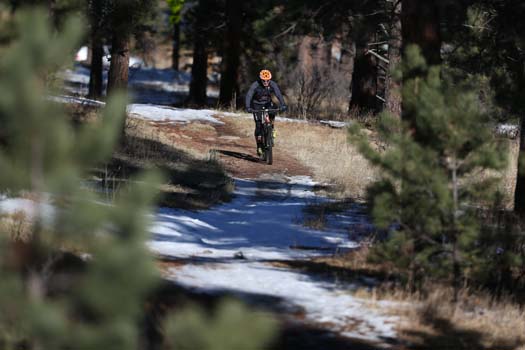 on Friday Dec. 04, 2015 at Alderfer/Three Sisters Park. Photo by Gabriel Christus/Aurora Sentinel
And even a relative newbie can log plenty of miles in a Colorado winter.
"Even in the winter you don't have to be a diehard cyclist to get out and ride," says Erik Julius, general manager at Treads Bicycle Outfitters in Aurora.
Plenty of people stroll into the Aurora Treads shop near East Iliff Avenue and South Buckley Road throughout the year, itching to get their tires on the road regardless of what the temperature says.
With just a few modifications — and while you can drop several hundred in this area, you really don't need to if you're just looking to log a few miles outside of the rare blizzard — you can easily spend all 12 months on two wheels in Colorado.
Here are some tips for making those chilly winter rides as fun as pedaling around in early August.
Check the tires
Those pencil-thin rims with tread built for speed you rocked on the street ride all summer aren't a good fit when the snow starts. If you want to crank your way through the snow, it's best that you opt for some fatter tires with a solid tread on them. Mountain bike tires are usually a good fit here, but if you really want to grip the snow you can opt for a set with metal studs.
No matter which one you go with, you'll want to lower the pressure on the tires a bit compared to what it was when the roads were warm and dry.
Erik Swanson, owner of Adventure Cycling in Aurora, said lowering the pressure is key if you want to maintain control on slick roads.
"It's sort of like Colorado driving — everyone thinks you can stop anywhere on ice," he says. "No."
Dress in layers — gonna sweat, need to be ready to shed some
This is probably an easy one to anyone accustomed to Colorado winters — wear layers. The state's notoriously finicky weather means a morning that looked like the ideal time for a parka quickly becomes shorts and T-shirt weather by the afternoon.
But layers are especially important when you are going to be biking. The combination of sweat and extra wind can have you alternating between roasting and shivering for a whole ride if you don't plan accordingly.
Swanson says planning for this reality of Colorado weather is among the biggest keys for riding here in the winter.
"You start riding, you start sweating," he says.
So rather than snagging the big winter coat, opt for a few smaller options that you can tuck into a bag as the weather dictates.
Cover the right spots
It's not just a jacket or two you need to worry about when you set out on that winter ride. You need to pay close attention to your extremities, too.
Your hands are going to take the brunt of the cold, so a solid set of gloves that are warm but breathable enough to wick away the sweat are key. And if it's really cold, some insulated biking shoes will keep your toes plenty warm.
The tricky part is the head.
Few riders these days are foolish enough to hit the road sans-helmet, but a well-fitting helmet doesn't really work with a beanie.
"I wouldn't typically suggest putting a beanie on under a helmet," Julius says, because the helmet won't protect you the way it's supposed to if there's a hat wedged between it and your noggin."
Some folks opt to wear their insulated skiing helmet on especially cold days, and Julius says there are some models that sort of bridge the gap between a bulkier skiing helmet and a standard bike helmet.
But, Julius says, as long as you have a helmet on you shouldn't have to worry about your dome getting chilly.
"If you are really riding, your head's not gonna be cold," he says.