There's one easy way to escape the car trip troubles this year on your summer vacation: Take the train.
While most Colorado passenger trains don't go far or provide any real commuter service, trains are a secret window into Colorado: its canyons, rivers, and even passage straight through the center of its otherwise impenetrable mountains.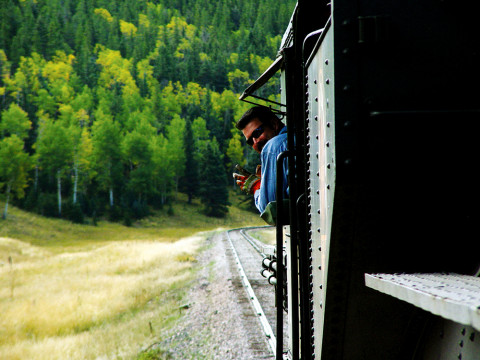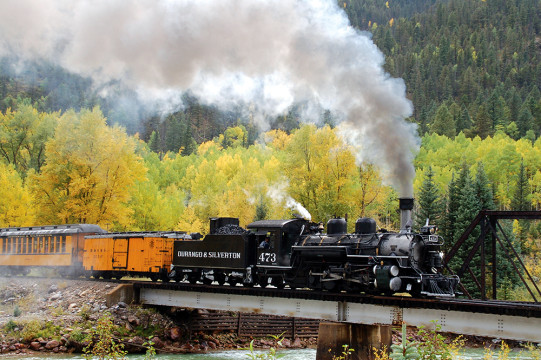 Trains are also a window into the state's history. Cities and towns rose and fell amid the gold rush sweeping the nation in the 1800s, and trains are what created Colorado as we know it today.
It was the rush of greedy Denverites and outsiders alike scraping to find some way to more easily ascend Colorado's mountains — which make up the highest section of the Rockies between Mexico and Canada, — to claim their fortunes — that also brought tourism, agriculture and a new shipping industry to the state. 
More than 600 peaks in Colorado measure higher than 13,000 feet above sea level, and 53 peaks reach over 14,000 feet. The thin air makes for slow progress on your legs or those of any other animal. It was the iron horse that brought the masses into the Colorado mountains long before there were plentiful cars and roads. Luckily, you can explore at least a few of these craggy ravines with an hourlong trip on one of the many historic train routes running during the summer. And be sure to enjoy a sarsaparilla, summer tunes and a few wildflowers along the way.
The Georgetown loop
All that glitters is not gold might be an apt adage for Georgetown, nestled right below Interstate 70, and one of the closest train rides to Aurorans at about an hour away.
Known as "the Silver Queen" thanks to its boomtown mining days of the late 1860s, Georgetown itself remains a testament to the Victorian aesthetic pioneers clung to amidst the harsh uncertainties of the American West. Its architecture is preserved in the flourishes decorating bookstores and coffee shops, as well as the creaky boards leading up to saloons-turned-restaurants. And what better way to experience the city's boomtown era than riding the Georgetown Loop?
The old-time steam locomotive takes a little over an hour and runs up to Silver Plume and back, with views of several gold and silver mines. Open cars allow unobstructed views of the Rocky Mountains. Departures are also available from the Silver Plume Depot or the Devil's Gate Station in Georgetown.
Tickets start at  $25.95 for adults, and $18.95 for children.  Trains with mine tours run through October. 100 Mountain St., Silver Plume. 888-456-6777 or georgetownlooprr.com.
Leadville Colorado
& Summer Railroad
This rail line has a leg up on the others when it comes to altitude. It starts its journey from Leadville — the highest incorporated city in North America — and takes passengers along the old Denver, South Park & Pacific and Colorado & Southern lines to the Continental Divide.
"It's a really cool way to get up and see the fourteeners without climbing them,"  says Leadville, Colorado & Southern Railroad manager Kristen Olsen.
The railroad snakes north along the Arkansas River Valley, climbing 1,000 feet off the valley floor with sweeping views of Freemont Pass and the two tallest peaks in Colorado, Mt. Massive and Mt. Elbert.
The trip runs a little over two hours through the untouched San Isabel National Forest. Olsen recommends the wildflower train, which runs July 25 and Aug. 1. That train provides travelers with the opportunity to take a 20-minute guided hike through pine forests, aspen groves and open meadows for views of Indian Paintbrush, Lupine and wild strawberries.
The more adventurous train travelers can also opt for whitewater raft and rail combos through Aug. 16. 
Tickets are $80 per adult, $37 per child (12 and under). Raft/train combo $112 per adult, $80 per child. Runs through Aug. 16.  Wildflower train tour $52 per adult, $26 per child. Runs July 25 and Aug. 1.  Open daily through Oct. 4. 326 E. Seventh St., Leadville. 866-386-3936 or leadville-train.com.
Rio Grande Scenic Railroad
Dating back to 1868, the Rio Grande is not only the state's highest and longest route on standard gauge rail, it's Colorado's only train-ride and mountaintop concert experience.
Now in its seventh season, Mountain Rails Live leaves from Alamosa and chugs 9,400 feet up into the Southern Rockies to drop passengers off at a solar-powered venue at the top of LaVeta Pass. To add some oomph, the stage is also in the shape of a boxcar.
Sarah Munley, a spokeswoman for the Rio Grande Scenic Railroad, says another unique feature of the train is its range of rail classes: from the retro dome to the open-air cars.  "We even have cars where the artists play on the train," she says, referring to the premier seating option known as the Diamond class.
Performances run through Sept. 13. Combine the concert with a dinner train ride starting at $142 per person.
Train tickets start $19 for adults and $9 for children for an economy seat.
Trains run through mid-October. 610 State Ave. Alamosa. 877-726-7245 or coloradotrain.com.
And the granddaddy of the all is the breath-taking narrow gauge rail between Durango and Silverton in southwest Colorado. This historic steam engine has been running passengers, ore and materials along the 45-mile ride that climbs 3,000 feet from Durango to Silverton, at a top speed of 18 mph.
This is not a dash affair. It takes nearly 4 hours to make the scenic trip — one way. There are return buses and other options for riders who have seen enough. But for the royal ride, it takes a day. You get better than a 2-hour layover in Silverton to explore the historic mining town and surroundings.
This is a train trip with all the options and numerous season theme trips. Economy seats one way in gondolas make for a rustic experience. Expect to feel the engine steam and the fragrance of the tons of coal needed to make the trip. These aren't replica steam engines, but the real deals that puff and plod just like they did well over 100 years ago.
Accommodations range from, literally, presidential, to economy. Special trips include brew tours, blues tours, wine tours, pumpkin tours, photo tours — even cowboy poet tours.
Tickets for kids start from $51 and go to nearly $200. Adult prices start at $85 (12 and up) and go to $200, presidential car. There are some discounts. Trains leave daily between 8 a.m. and 9:30 p.m., and return about 6 p.m. Call 888-872-4607 or www.durangotrain.com
Other Colorado train trips:
The Royal Gorge Route Railroad, historic and scenic in the central mountains of Colorado.
Pikes Peak Cog Railway, famous trip takes you to one of Colorado's most famous fourteeners.
Cumbres and Toltec Railroad, a stunning steam engine trip on the Colorado New Mexico border starting at Chama and Antonito and rising into the amazing San Juan mountains.
Cripple Creek and Victor, a steam-engine ride into Colorado's mining history